Frequently asked questions
Is there a minimum or maximum age requirement?
---
Our minimum is age requirement is 6 years old and sixty pounds. The maximum is however lively you are!
---
Do I need to know how to swim?
---
We supply PFDs (Personal Floatation Device) for all of our river trips. These assist you in the river if you happen to fall out of the boat.
---
What do the different classes of rapids mean?
---
Rapids range from class 1 to 6, 1 being bathwater and 6 being Niagara Falls. The rapids that we run are class 2 and 3.
---
What's the best time of year to go tubing?
---
Rafting season is March through the end of June. Mid-July we typically begin tubing season and run our commercial guided paddle tubing trips. Depending on snowpack levels, our season for rafting could run longer.
---
When should I make a reservation? How?
---
Reservations are always recommended; the sooner you book the better. We give priority over walk-ins for bookings made in advance and we are also better prepared for you when you arrive.
---
How are we getting to the river?
---
We have a shuttle that takes you two miles up the road for your three and a half river mile trip. Once you have finished your rafting trip, our shuttle will pick you up and drive you back to our shop. During tubing season, your trip will finish underneath the bridge in Kernville, which is only a short walk away from the shop.
---
Are there nearby places to camp/hotels?
---
Check out all the places to stay in and around Kernville here.
---
Do you do rentals?
---
We do not offer any tube rentals. However, our shop has all the gear you'd need for purchase if you would like to own all your own equipment.
---
What should I wear?
---
We require everyone to wear shoes that have a back on them, such as sneakers or water shoes. Flip flops are NOT allowed. Be prepared to get wet, so wear clothes that you don't mind being splashed in. We recommend not to bring valuables like phones, watches, etc. For a more detailed list of what to wear for rafting, check out our blog post here.
---
Should I tip my guide?
---
If you enjoyed your trip, leave a tip!
---
What does CFS mean?
---
CFS stands for Cubic Feet per Second. Imagine a basketball sized volume of water that is passing a line that reaches from one side of the river to the other; each basketball is a cubic feet of water so if the water level is at 180 CFS, 180 basketballs are traveling per second passed that line.
---
What is the water temperature like?
---
The Kern River is made possible by the run off from the snow melt on Mount Whitney, which makes the water cool during the spring months and perfect for a hot summer day.
---
Do you have accommodations for pets?
---
SoCal does not provide any accommodations for your pets while you are rafting. We suggest having a family member or friend who is not rafting watch your pets while you are on the river.
---
Photography?
---
Yes! We provide photos for purchase. You can either add them onto your reservation or purchase them after your tour. And don't worry, if you get home and regretfully forgot your photos, we've got you covered. All you really need to do is to smile for the camera!
---
What's it really like to go tubing down the Kern?
---
You won't know until you come experience it for yourself, but here's a short video to get a sense of the fun you could be having. What are you waiting for?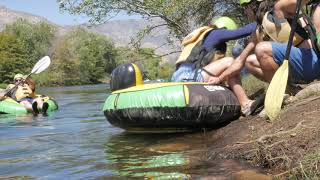 ---
---